School Admissions
Nurture, Aspire, Achieve
The deadline for applying for a Reception place for September 2020 has now closed, if you have not applied, please call 0113 222 4414.
Applying for a Reception place
If your child was born between the 1st September 2015 and 31st August 2016 you have until the 15th January 2020 to apply for a place. Even if you child is currently attending the school Nursery, you must still complete and application for a Reception place. Applications should be submitted to the Leeds City Council admissions team.
The online application system closed on 15th January 2020. If you have not applied for your child's Reception place, please contact admissions directly on the number below or email startingprimary@leeds.gov.uk
Click here to complete the online application. If you cannot apply online please contact the School Admission Team on 0113 222 4414.
Admissions to Reception is managed by Leeds City Council who allocate the places based on the priority criteria set out in the LA Admissions Policy (see useful information below)
If you would like to look around the school before applying for a place, please contact the school office on 0113 2012450 and we will be happy to arrange a tour for you.
School Catchment Area
The map below shows the expected catchment areas for admission to the local schools in Sept 2019.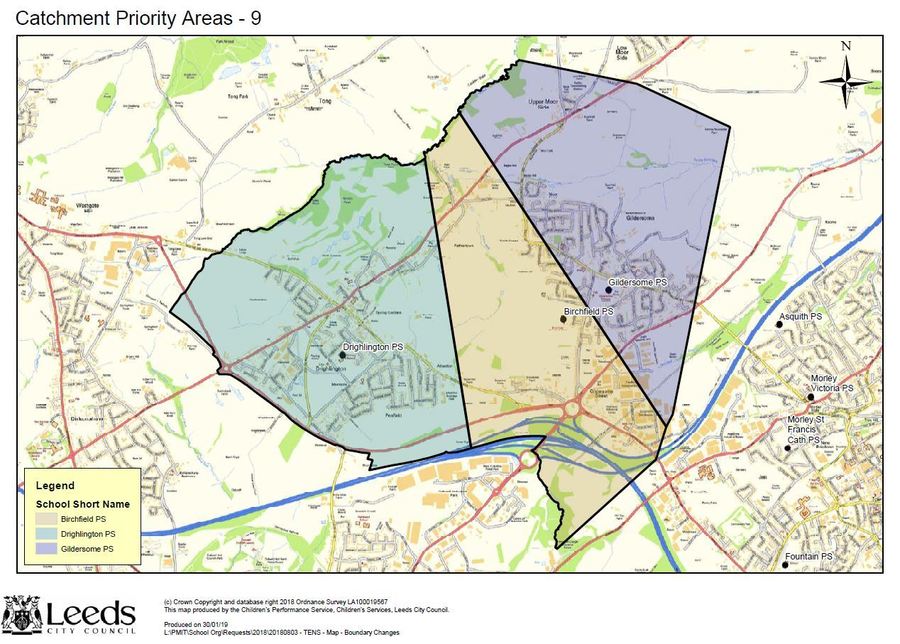 Applying for a Nursery place
The school has a 26 place nursery and runs a variety of different attendance options. For more information about our Nursery and how to apply for a place please click here.
We generally have two or three intakes for Nursery each year but it is important to add your child to the waiting list early to secure a place.
Applying for a Secondary School place
If your child was born between 1 September 2008 and 31 August 2009 they should start secondary school in September 2020, so you will need to make an application.
The deadline for applications was 31st October 2019. If you have not yet applied for a place please contact admissions as a matter or urgency.
Click here to apply online.
In-year transfer
​Moving to a different school at any time other than the usual admission to Reception class, transfer to junior school, or transfer to secondary school, is known as an 'in-year transfer'.
Children may transfer to the school throughout the year provided that the school has places available and we can meet the needs of the child. Families should apply directly to the school for in-year transfers.
To apply for a school place, you will need to complete an In-year transfer form (see useful information) below. If the school does not currently have any places available, you will be added to the waiting list once your transfer form has been received.
To check the availability of places in any Leeds school please click here.
Visits and Open Days
If you would like to visit the school prior to applying for a place, please call the school office on 0113 2012450 and we will be happy to arrange a tour of the school for you