Early Years Curriculum
Nurture, Aspire, Achieve
The Early Years Foundation Stage (EYFS) sets standards for the learning, development and care of children from birth to 5 years old. All schools and OFSTED-registered early years providers must follow the EYFS, including childminders, preschools, nurseries and school reception classes. The Early Years Foundation Stage (EYFS) framework supports an integrated approach to early learning and care. It gives all professionals a set of common principles and commitments to deliver quality early education to all children.
Children develop very quickly in the early years and early years practitioners aim to do all they can to help children have the best possible start in life. Children are given the opportunity to explore activities and resources in a very 'hands on' approach.
The EYFS curriculum is broken down in to 7 key areas. They are then broken even further down in to 17 specific areas. The children work towards objectives called 'Development Matters' which are set out in a chronological way to coincide with the children's development. The way the children develop is influenced by their attitudes to learning.
Below is a diagram to explain this in more detail: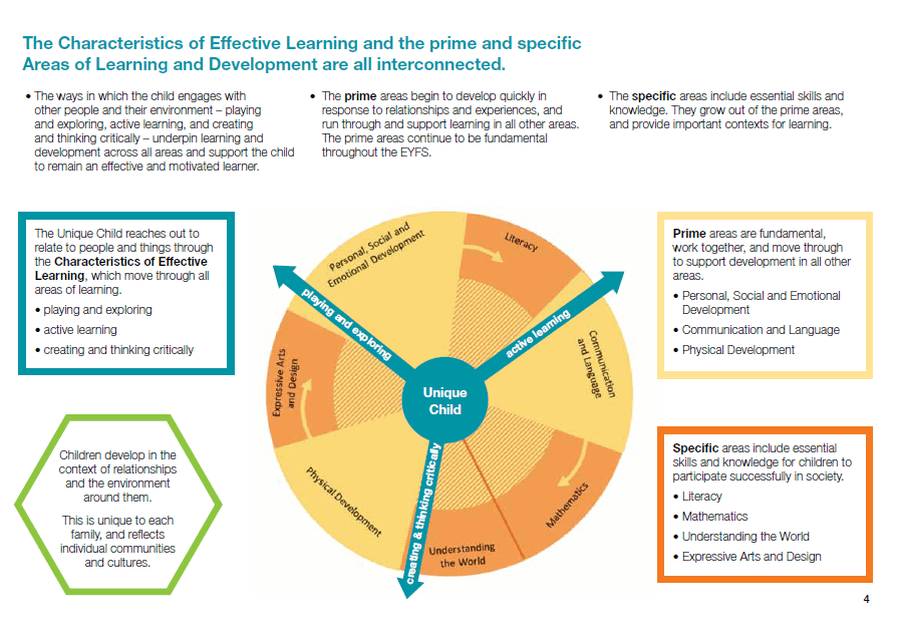 At Gildersome Primary School the Nursery and Reception classes are set up to promote learning in all areas of the EYFS curriculum. The staff constantly observe how the children engage with different activities on offer and assess how they are progressing with their learning and development. This then influences what is planned next to ensure the children are developing to their full potential.
Underneath is a diagram of the different areas covered in the EYFS.
At the end of the EYFS the children are assessed against a benchmark for each area of the curriculum called 'Early Learning Goals'. These are used to inform Key Stage 1 staff where the children are in terms of learning and development and what should be planned for the next stage of their education.